Server Recovery Chicago IL
Server Data Recovery Chicago Illinois
---









---
Trust Chicago IL Data Recovery Services for All of Your Server Data Recovery Needs
Losing files from a computer hard drive or mobile storage device is one thing. Losing data and files from a server is another matter entirely. The process of recovering files from a server can be very daunting and complicated. There are countless server configurations, manufacturers, and hard drive issues that all affect the recovery process and the success of your Chicago IL server data recovery.
It is almost impossible for the average individual to determine what is causing a server failure and the resulting loss of data. Fortunately, with the help of the experts at Chicago IL Data Recovery Services, server data recovery in Chicago, IL is now easy, fast, and affordable.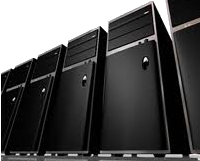 ---
How Can Chicago IL Data Recovery Services Help with Your Server Data Recovery Needs in Chicago?
Chicago IL Data Recovery Services has more than 15 years of experience in providing server data recovery in Chicago, Illinois. We have a 97-percent success rate as well as a no data, no charge guarantee. This means that you only pay if we are able to successfully recover your server data for you. Unlike other companies, we do not force you to gamble or face "what if" situations. We either recover your data or you don't pay. We never charge for unsuccessful server data recovery attempts. This guarantee, combined with our stellar success rate, ensures that our customers are satisfied each and every time they come to us for data recovery services.
What Causes Server Data Loss?
There are a number of factors that can contribute to the loss of data on a server. Some of the issues our clients have run into include:
The depletion of their server's system resources;
Network problems;
Issues with server software;
Operating system errors; and
Physical server damage.
If your server has suffered a loss of files or data, no matter what the reason may be, allow the experts at Chicago IL Data Recovery Services to restore your files and data in a timely manner and at affordable prices.
Contact Chicago IL Data Recovery Services Today for Server Data Recovery in Chicago
If you are in need of server data recovery in Chicago, IL, contact our experts today to receive a free consultation. You may also choose to fill out our free server recovery price quote and begin the data recovery process today. No matter what type of server you need data recovered from or who the manufacturer is, our vast knowledge and experience will ensure that your files and data are recovered safely, securely, and as quickly as possible.
Contact us today for a free no-obligation quote for server data recovery in Chicago, Illinois. Our trained experts will get to work immediately to help you retrieve your data and get you back to work as quickly as possible.
Providing Chicago IL Server Recovery For Any Server
We have a great deal of experience when it comes to recovering data from all server types. Below are the servers we've worked with in the past.
HP Server Data Recovery
Dell Server Data Recovery
Gateway Server Data Recovery
IBM Server Data Recovery
Sun Server Data Recovery